Value-Added Tax (VAT)
VAT in the United Kingdom is levied in accordance with the Value Added Tax Act 1994 and COUNCIL DIRECTIVE 2006/112/EC of 28 November 2006 "On the common system of value added tax".
VAT is applied to most of import transactions, sales of goods and provision of services. The standard rate is 20%. Some types of goods are taxed at the rate of 5% or are exempt from VAT.
To work with VAT you need to register with HMRC.
VAT registration is mandatory if:
your VAT taxable turnover is more than £85,000 over the last 12 months, or
you realize that your total VAT taxable turnover is going to be more than £85,000 in the next 30-day period.
Your company purchases goods for more than £85,000 from EU VAT-registered suppliers, or
If neither you nor your business is based in the UK, then you must register as soon as you supply any goods and services to the UK (or if you expect to in the next 30 days).
You can register voluntarily if your business turnover is below £85,000. You must pay HMRC any VAT you owe from the date they register you.
CORPORATE TAXATION
After incorporation, a UK company shall have statutory tax obligations.
All companies, regardless of size, shall pay the same rate of corporation tax, which is 19%. It is proposed that this rate will fall to 17% starting from the 1st of April 2020.
Dividends (and distributed profit) paid by a company are typically exempt from taxes.
Interest: Interest paid to a non-resident is subject to withholding tax at a 20% rate, unless the rate is reduced pursuant to a tax treaty or the interest is exempt under the EU Interest & Royalties Directive. Reduction under a tax treaty is not automatic and advance clearance must be granted by HMRC.
License payments (Royalties): Royalties paid to a non-resident are subject to withholding tax at a 20% rate, unless the rate is reduced pursuant to a tax treaty or the royalties are exempt under the EU Interest & Royalties Directive. Advance clearance is not required to apply a reduced treaty rate.
There are highly competitive benefits and reliefs for innovative and high-tech industries and businesses dealing with intellectual property, such as tax deductions for qualifying R&D expenditures, lower rate of Corporation Tax to profits earned from patented inventions and certain other innovations (Patent Box) etc.
However, in view of Brexit taking place on the 29th March 2019 we recommend to get updated information on taxes because if the UK leaves the EU without a deal, the way that interest, royalties and dividends are paid between UK and EU companies may change.
Double Taxation Treaties
The United Kingdom has agreements for avoidance of double taxation with more than 100 countries (including India and USA). Despite that, you will not be able to use such agreements if the UK company is nominal, i.e. if it is an agent of another company in a tax-free jurisdiction that receives the most of income. Thus, there is no point in UK company creation only for the sake of application of a tax treaty.
It is also necessary to have economic substance in the territory of the United Kingdom, i.e. to have a real office and manage the company's affairs from the territory of the UK etc. The company may use international tax agreements only if the income is considered as the income of the UK company. It is not possible to use tax agreements if the company files so-called "dormant accounts".
TAX DEDUCTIBLE EXPENSES
The following table shows which items of business expenditure are deductible against a company's profits for UK corporation tax purposes, and which are not. The list is written in general terms, so specific advice should always be taken.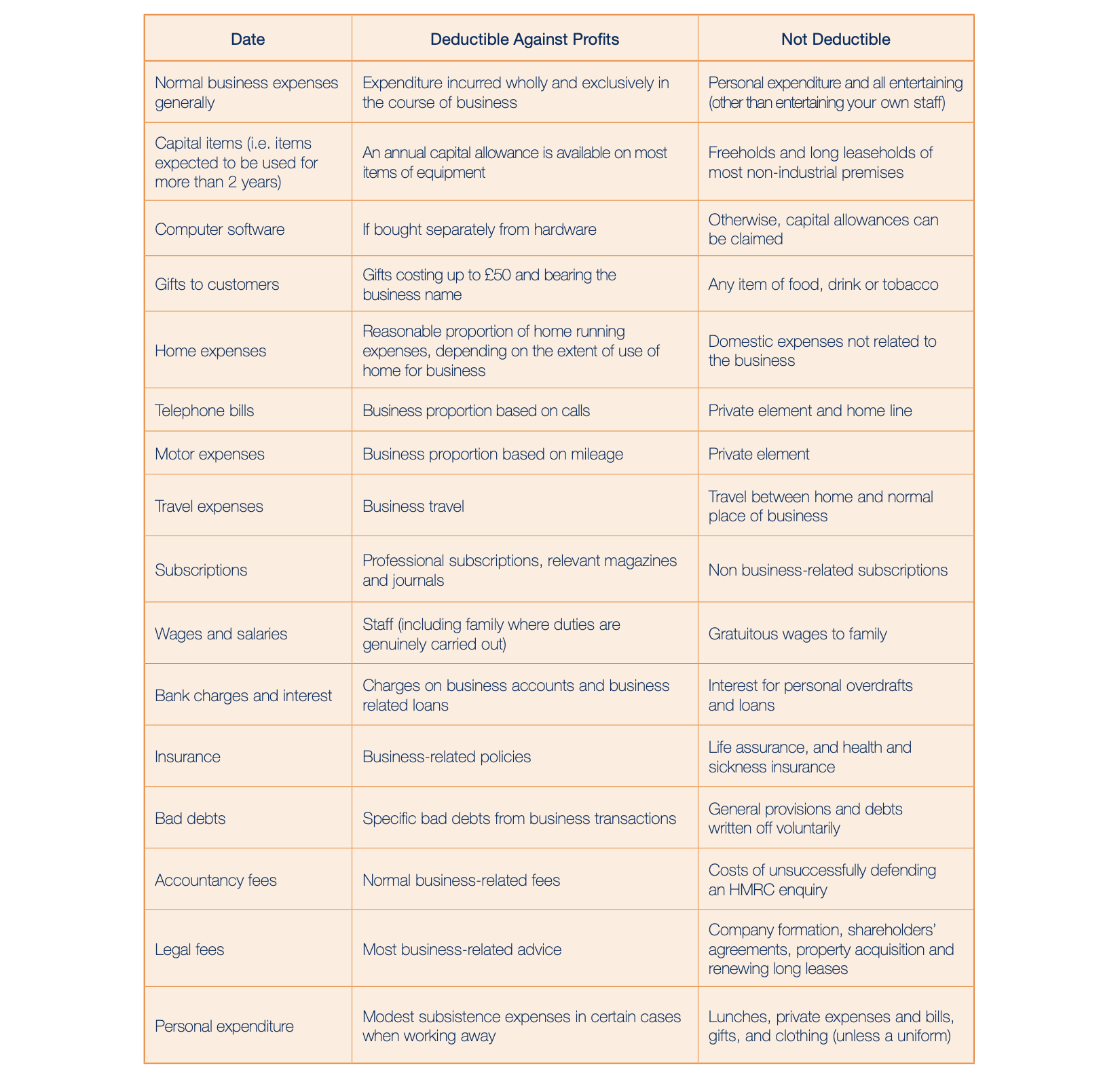 Personal income Tax
An individual is tax resident in the UK if he or she spends at least 183 days in a year within the country or his or her only home is in the UK for at least 91 days in a year or work full-time in the UK or fulfills one of the previous conditions during the three preceding years.
If the individual is resident but not domiciled (permanent home) in the UK, his or her investment income and capital gains will be only taxed if are remitted to the UK.
Personal income tax rates are progressive up to 45% on income exceeding GBP 150,000. Dividends are also taxed at progressive rates (7.5%, 32.5% and 38.1%) with an allowance of GBP 5,000.
Interest income is taxable as ordinary income, but a 0% may apply to the first GBP 5,000. Rental income is taxed depending on the location of the property.
Capital gains are taxed separately. The first GBP 11,700 may be tax-exempt. Gains exceeding this amount up to 34,500 may be taxed at 10% and 20% on the excess.
Labor Taxes
Employers and employees are required to make contributions to the National Insurance at 13.8% and 12%, respectively, on employees' income above GBP 157 per week. Businesses may be exempt from the first GBP 3,000 per year.
Tax credits and Incentives
A tax credit for foreign tax paid is usually available, either under a tax treaty or through the unliteral relief rules.
There are several tax incentives for companies in the form of enhanced tax depreciation allowances.
There is also usually available an annual investment allowance of 100% on the first GBP 200,000 per year of capital expenditure incurred.
SMEs may claim a deduction equal to 230% of the qualifying expenditure on R&D in the year in which it is incurred, which can be surrendered for a cash payment (at a rate of GBP 33.35 for each GBP 100 of qualifying R&D spend) by companies that are trading at a loss or have not yet started to trade.
If taxable profits can be attributed to the exploitation of patents, a lower effective tax rate of 10% may apply. Profits may include a significant part of the trading profit from the sales of a product that includes a patent, not just income from patent royalties.