Incorporation of Private Limited Company or OPC in India - Ideal if your business is Startup and Medium size
Many advantages, Less Compliances with ROC and Minimum Fees

Incorporation in 2 days | Include Incorporation Certificate, DSC, DIN, PAN, TAN, AOA & MOA

Eligible to apply for Startup India Recognition & Tax Exemption

FinTax Consultants provide Free Post incorporation consultation
IF you are Planning for Startup Recognition of your proposed Company, then Choose either of the 2 Option
A) Private Limited Company
Minimum 2 Directors and Shareholders required. Starting Share Capital? - Any amount Rs 10000 to 10 Lakhs. We recommend Starting Share capital for a Startup upto Rs 1 Lakh and Increase lateron as per requirement in furture.
A Foreign Resident can also be a director and Shareholder along with one Indian Resident Director.
B) One Person Company ( OPC Pvt Ltd)
As the name name itself speaks an OPC can be started by SINGLE Director/Shareholder. One Nominee appointment is must.
Documents Requirements for a Company Incorporation?
For All Directors/Shareholders
1) Photo, Email ID , Mobile No., PAN Card, Aadhar Card
2) Any one ID Proof Voter ID / Driving License / Passport
3) Address Proof – Latest Bank Statement / Mobile Bill/Telephone bill/ electricity bill
4) Company Registered Address proof - Mobile Bill/Telephone bill/ electricity bill / Any Utility Bill and NOC from Owner.
It is not necessary that all Directors address should in same state wherein company's registered address is proposed.
* (Above all documents also require for a Nominee in case of OPC)
A Private Limited Company and OPC is registered with Registrar of Companies under Ministry of Corporate Affair.
Registration Process?
Step 1 – Hire a Consultants ( FinTax or any other CA or CS )
Your right Consultants will Assist you for complete registration from initial to end.
Next Step – Apply for DSC ( Digital Signatures) for all Director/Shareholders (if you do not have)
Step 3: File Name Approval of the Company or Direct File Incorporation
In 2-3 days you get Incorporation Certificate along with PAN, TAN, AOA and MOA
NOW NEXT STEP YOU CAN MOVE FOR STARTUP INDIA RECOGNITION
Once your business get recognition certificate from DPIIT, you are termed as Startup Company.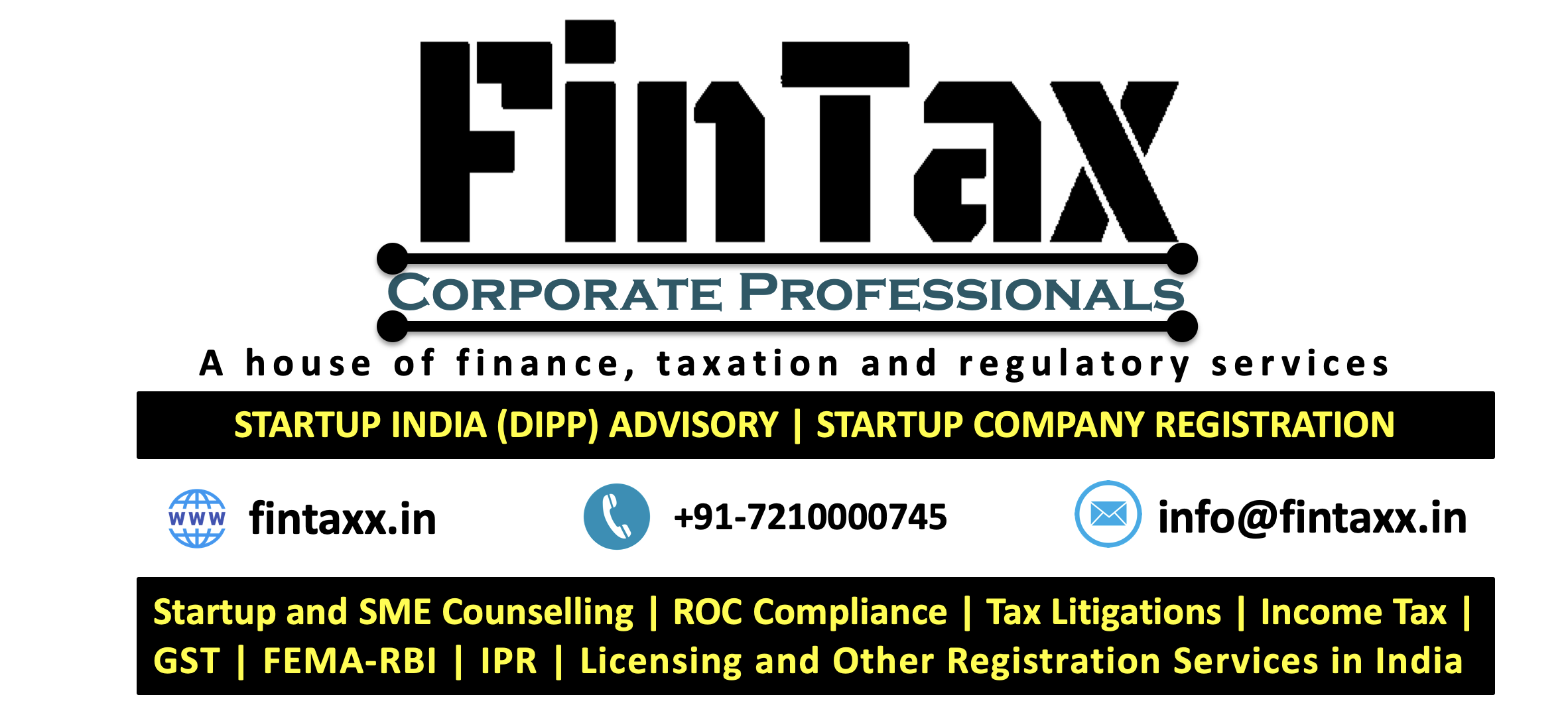 Company is a popular option to start a business in India by startups and businesses with higher growth aspirations. Pvt Ltd company is incorporated under the Companies Act of 2013, and governed by the Ministry of Corporate Affairs (MCA). It is a registered corporate structure, that provides business a separate legal identity from its owners. Hence, providing key advantages like the ability to contract in its own name, and safeguard personal assets of the owners from business liabilities.
Private Limited Company vs. LLP
Pvt Ltd Company and LLP both are limited liability structures. However, companies offer certain key advantages, especially for startups. Ownership of the company is defined by share capital, which is easy to transfer compared to ownership transfer in LLP. Also, it clearly differentiates management and ownership. Hence, it is preferred by VCs, angel investors and banks for providing debt or equity funding.
However, one should also consider higher compliance and mandatory audit requirement, making it an expensive structure to maintain.
Registration of Company is Simple with FinTax
The process of company registration in India is revamped by MCA, effective from 26th January 2018. Now, registration of the company can be completed within 10-15 business days. LegalWiz.in employs qualified company secretaries and chartered accountants, who ensure highest customer satisfaction and timely delivery of service. Entire process is managed online, with regular communication and assistance available throughout. We have clients in all major cities of India including Mumbai, Delhi, Bangalore, Pune, Ahmedabad, Hyderabad and more. And, Our services have equally relevant reach within smaller cities and towns in the country.
Advantages of Private Limited Company Registration
Easy Fund Raising
Pvt. Ltd. Company registration process is stringent enough to make this structure credible among others which makes fundraising or borrowing from external sources easier. The organization itself provides a number of ways to raise funds in the form of private equity, ESOP, and more.
Separate Legal Existence
Once the Company registration in India is done, a legal entity is born in eyes of law. This separates itself from its owners and managers. The company can operate on its own name simply by opening a bank account to own assets and enter into contract with parties. This also provides right to sue third parties in case of any defaults.

Owners' Limited Liability
The company's obligation or debts of does not create a charge over the owner's personal assets. Their liability stays limited only to the capital subscribed and unpaid by them.
Management and Ownership Separation
The separate ownership and management help both – the company and the management to focus on their potential works. The shareholders assign responsibility to operate and run the company without losing control in the form of voting.