ONLY STARTUPs ( recognised by DPIIT, Ministry of Commerce and Industry) are eligible to apply for Door to Door Diesel delivery service.
For your better understanding please go through under mentioned information.
Who are Eligible for Startup (DIPP) Recognition?
1. A Private Limited Company, 2) Limited Liability Partnership (LLP), 3) One Person Private Limited Company and 4) Registered Partnership firm ( registered with Registrar of Firm)
- Provided Turnover not exceeding Rs 100 cr. in any financial year and running business model is innovative, improvement and scope for employment generation. Entity not more than 10 years old ( preferably maximum upto 6-7 yrs old is perfect)
ID YOU ARE NEW AND DO NOT HAVE ANY STARTUP ENTITY OF FUEL BUSINESS, THEN START FROM SCRATCH AS PER BELOW STEPS -
HERE HIRE EXPERIENCED CONSULTANT TO COMPLETE ALL PROCESS -
Step 1 : Company/LLP Incorporation or Registered Partnership Firm
Step 2: Apply for Startup Recognition with DPIIT
( It takes 5 -10 working days)
Step 4: GST Registration ( 5-10 days)
Step 5: Class 3 Organisational Digital Signature for tender Apply Purpose
* Startup Recognition is subject to fullfilment of StartupIndia Recognition policy and rules. BETTER take professional's service here.
Next you can move for tender participation in door step diesel delivery of IOC/BPCL/HPCL. Present tender opens on 01.06.2021 and closing on 30.06.2021 and in every 2 months gap re open tender till 28.02.2022 the end date. For more details you may visit OMCs portal. Published expression of Interest and Policy details enclosed herewith your knowledge purposes.
Published Expression of Interest:-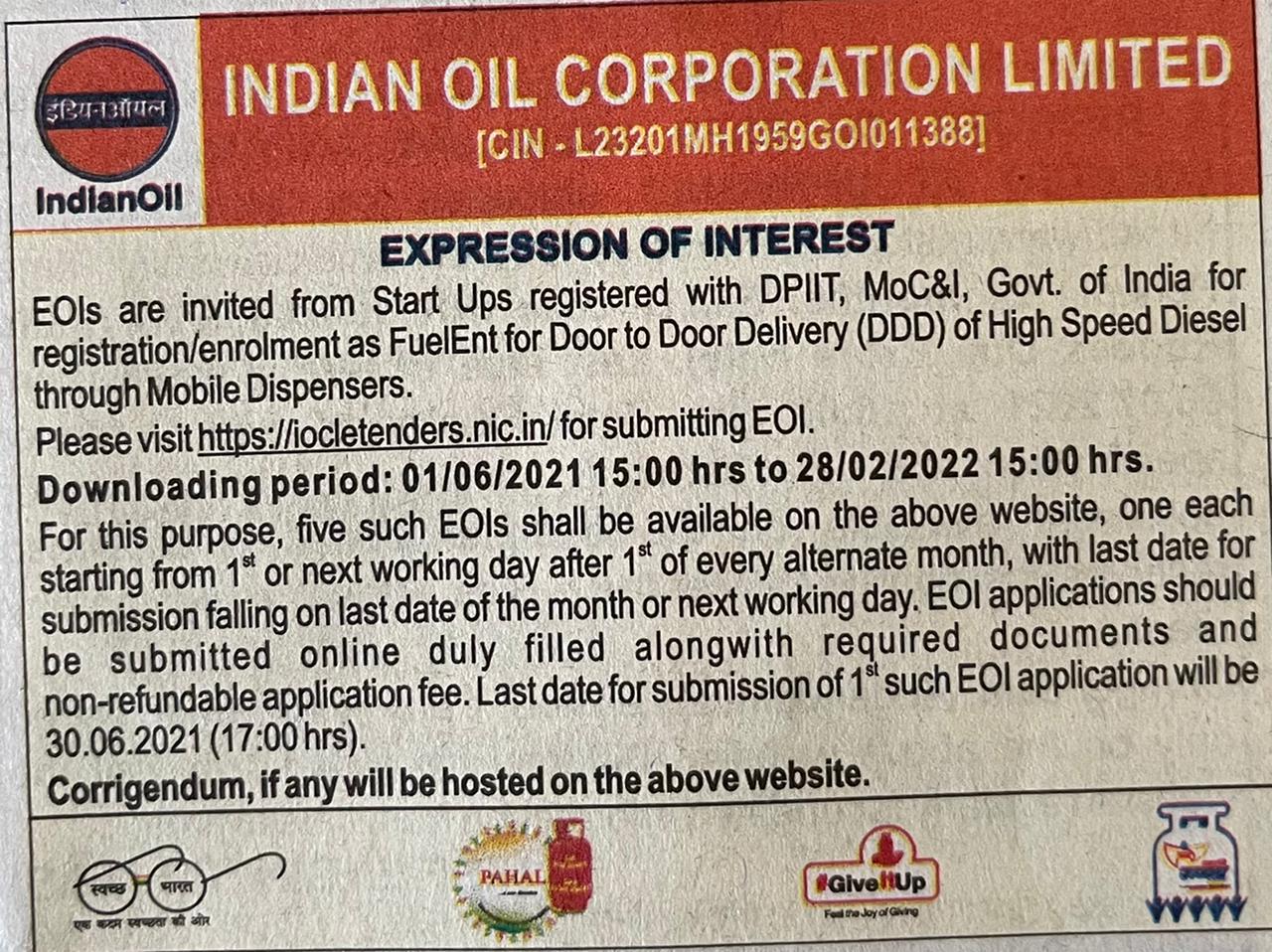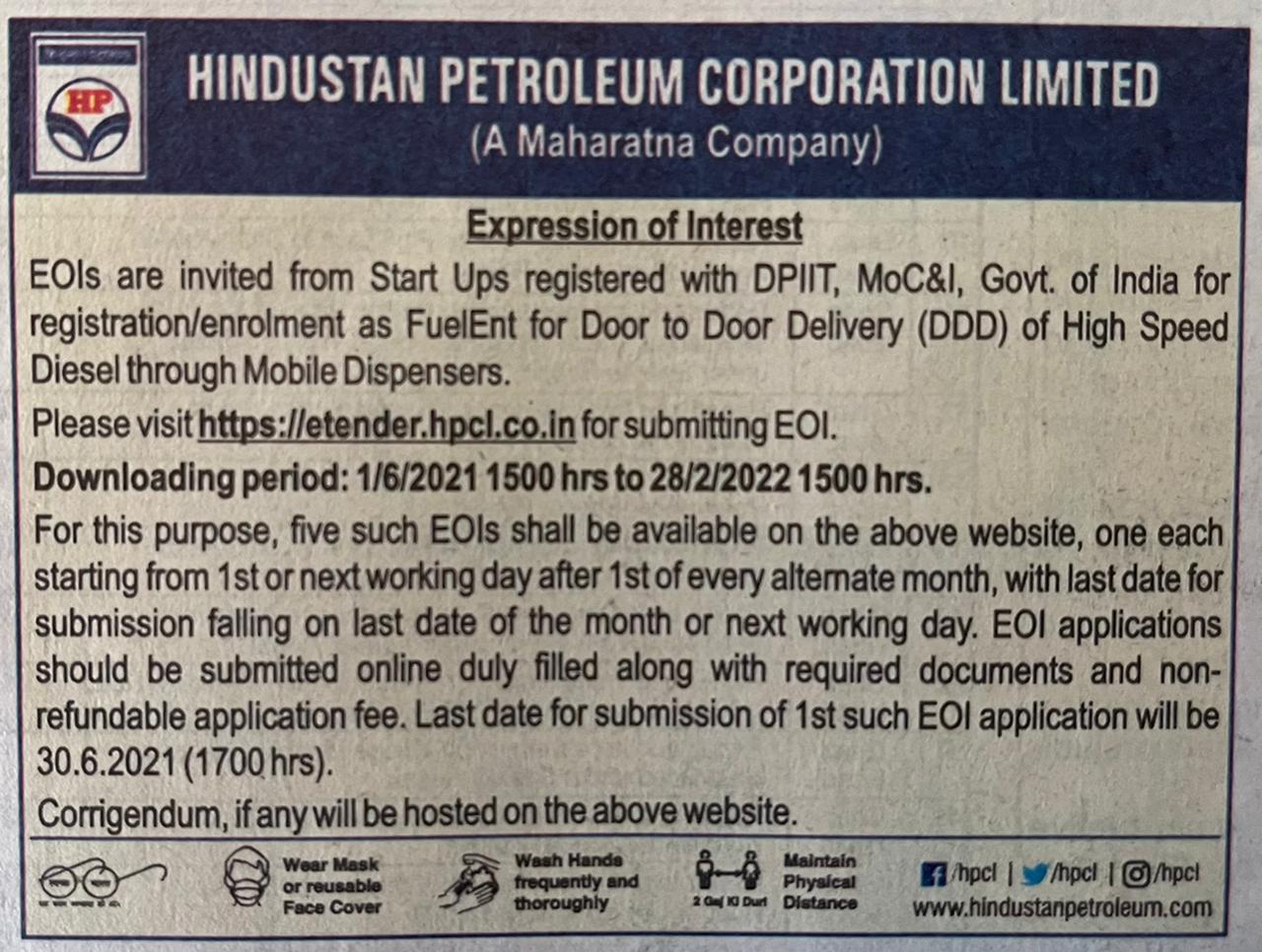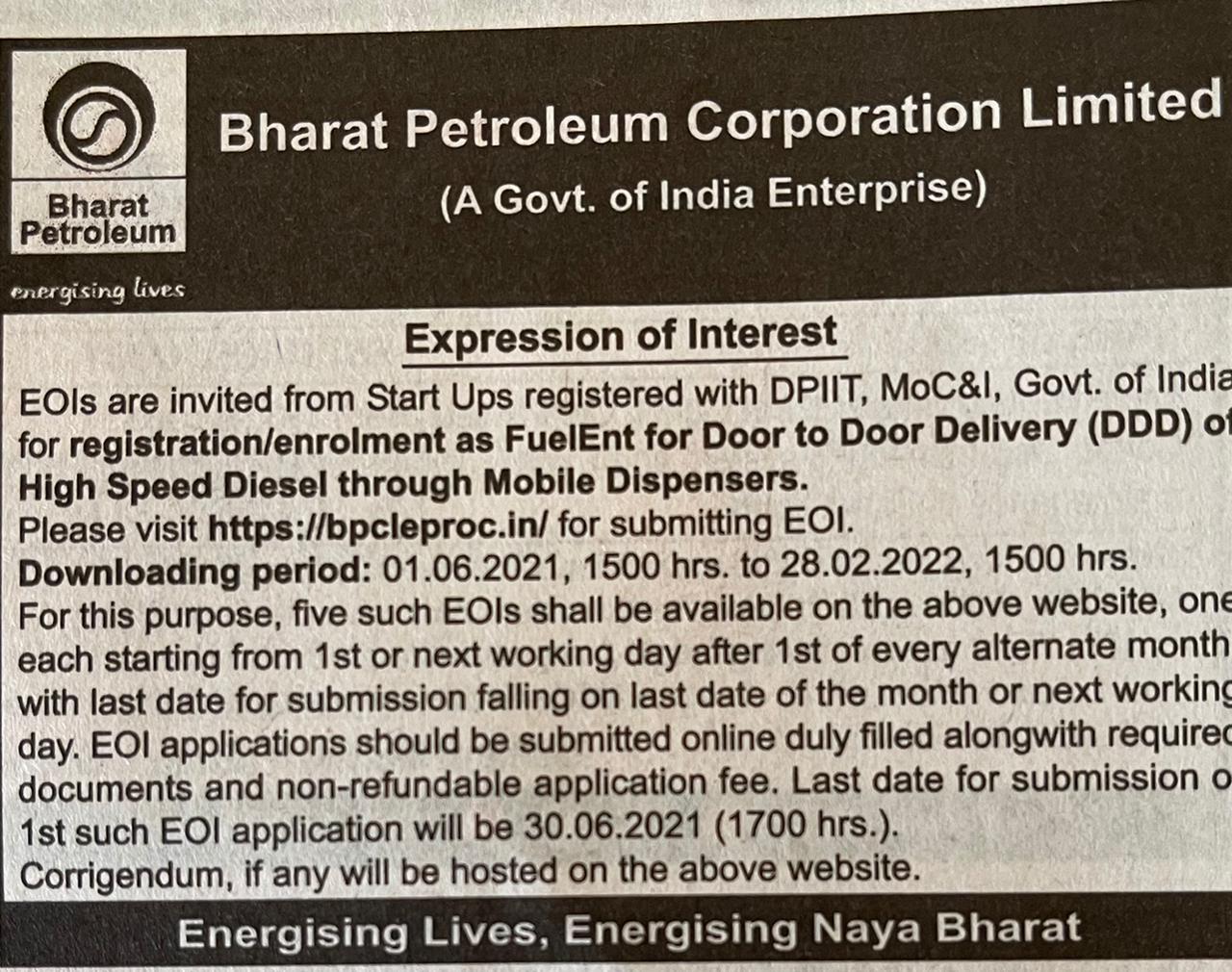 BE FIRST TO START @ YOUR PLACE
CALL US @ +91-7210000745 for Door Step DIESEL DELIVERY (FUELENT) STARTUP Registration
For more knowledge visit https://www.fintaxx.in/service/startup/diesel-delivery-startup-registration
#
DDD Reseller Registration
#
DDD Reseller Registration process
#
DDD Reseller Registration Criteria
#
IOCL DDD Reseller
#
BPCL DDD Reseller
#
HPCL DDD Reseller
#
Door to Door Diesel (DDD) Reseller Registration
#
Fuelent Registration