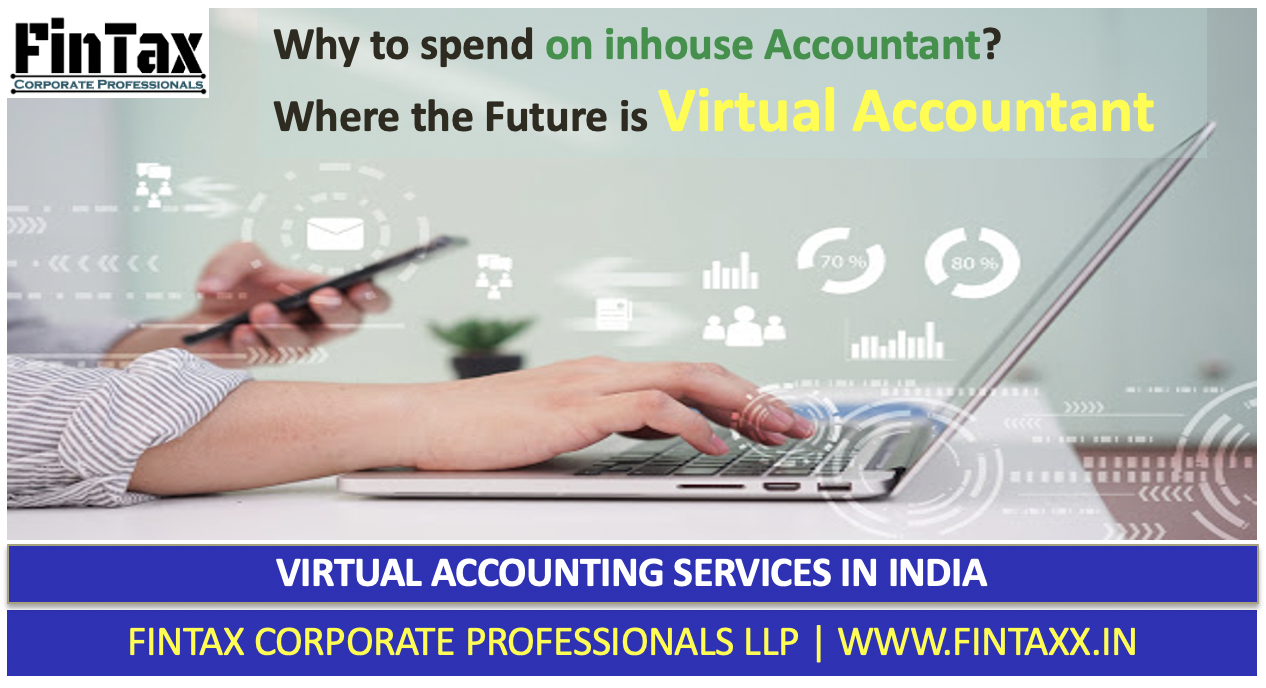 Send your Requirement here
What is Virtual Accounting?
Virtual accounting is an online system of accounting perform by Professionals Accountants remotely rather than physically working at the at your office. It offers all the benefits and functions same like an accountants does sitting at your office premises. Hiring an Accountant or Qualified Professionals is an Expensive and always carry contractual terms of services, Whereas Virtual Accountants cost is often less and more flexibility for your business and Tax compliances.
Why you need to Virtual Accountant rather than Physical Accountant
Bookkeeping in simple terms is the process of maintaining the financials of the company that is the inflow and outflow of the funds to recognize the profit and loss made by the company. Accounting based on bookkeeping process and one mistake in bookkeeping means a loophole in your accounts and financial statements which can cost you a lot in the long run.
Whether you are running a company, or a firm, Grocery Store, an Engineering or Mechanical works shop, a gift shop or a shopping mall, an Tech firm or a medical shop, the most important things is efficient managing your day to day transaction and its accounting in same day. Due to Various Government regulations like GST, Income Tax, Companies Act ( applied to Companies only) Maintaining a Books of accounts is mandate if achieve the specified limit of turnover and that Books of accounts must be preserved for 6/8 years.
Most of the mid-sized and large organizations have their accounting team of chartered accountants, Cost and Management Accountants, CPA and other professionals who specified for the job of accounting but in small firms or startups, it is expensive to hire such professionals to keep track of the accounts and thus, the founders must do bookkeeping and accounting on his own. That might be good initially, but the valuable time of business enhancement split into this "repetitive" work which will lessen the value of the business. Thus, in this age of virtual assistants, virtual accounting services can be used to maximize the profit of the company.
How Virtual Bookkeeping Works at FINTAX
Step 1:- Getting the Financial Documents
We get your documents online. Login to your dashboard and upload all input documents or Email us. We make accounting entries from here, which you can watch there and download report. We will handle everything from here!
Step 2:- We Do Your Bookkeeping
We reconcile your documents, streamline your transactions, draw your statements and make sure you are tax compliant! Get updated Profit and loss statement and Financial Position there.
Step 2:- Get Your Reports, In The Way You Understand
Once your books are complete, you will get a notification from our team to let you know that we are ready to get them reviewed by you.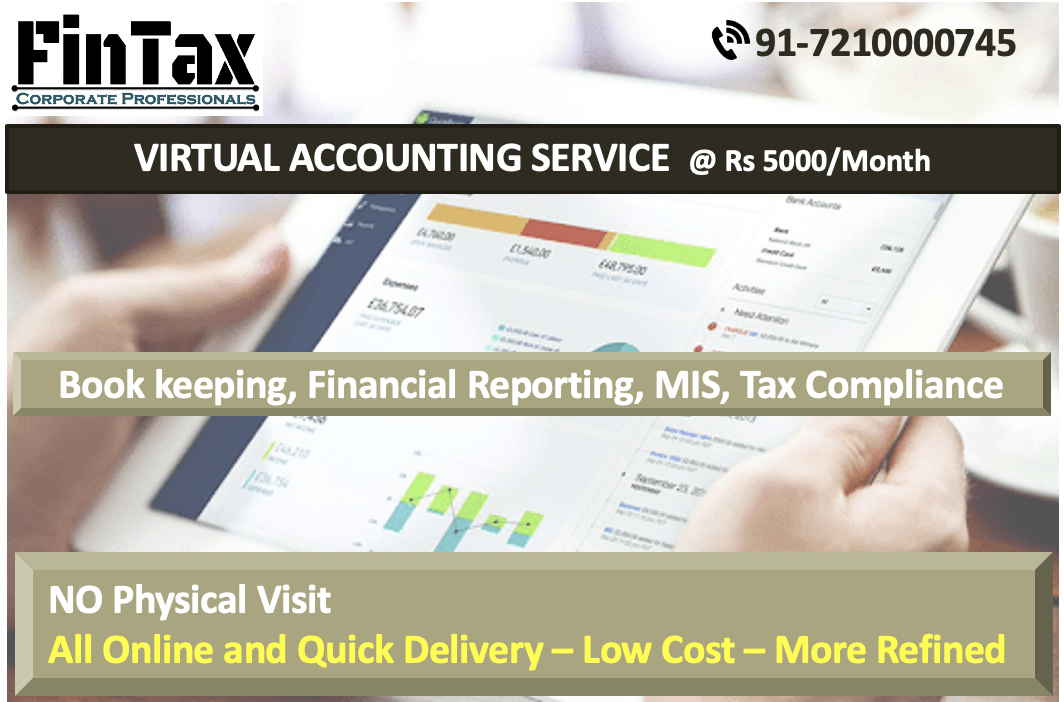 Virtual Financial Accountants in Yadgir, Karnataka
Features of Virtual Accounting Services:
Online Virtual Accounting Services are the same as accounting services with an added online flavour to it. So, the features and the services provided by these companies are also the same as an accounting firm with the extra advantages of online assistance. The main features are as follows:
Accurate and Updated Accounting: Whether you are maintaining accounts by yourself, an in-house team of Chartered accountants or Experienced Accountants or virtual accountants, the first thing which has to be there is an accounting software which is up to date with the market standards, useful to keep all the information and data secure, and provide the perfect results. Our Virtual Accountant Service with own secured accounting software is used to keep every record that is from placing an order, receiving it, invoice generation, bill payments, etc. You have to input the data and the software on its own will prepare financials like the journal, ledger, trading, profit and loss accounts, final accounts, and financial statements as well.
Reconciliation of Cash and Bank Books: One of the important task of an Accountant is book keeping and accounting reconciliation of cash and bank book with bank statement at interval of 7 to 15 days. Our Virtual Accountant Service keeps track of the entire bank, and cash transaction and the balances are up to date or not and if there are any differences in scales of both books or not and they offer services with Business Cash Flow Management Services.
Automated Processing of invoices, payment update, etc: Our virtual accountant (VA) can keep track and record of all the invoices sent, received, and processed. VA will also keep an eye on the payments that are yet to be done, already received, and others.
Auto Reflect Invoice dates and entry: Here you need not remember all the times of your Invoices. Whenever any Invoice due date is nearby, your virtual accountant will pay it off and reflect that in the books of accounts immediate.
Salaries and wage payments made simple: As virtual accountant maintain day to day recording of transactions, Maintain Bank details and manage payroll as well, Hence employees can get their salaries on the exact date of payment in their bank accounts without any hassles.
Tax management and Statutory Liability Compliance: The virtual accountant upon consulting with your Auditor or Chartered Accountant or CPA can also help in Various Tax Compliances likes – monthly TDS, EPF/ESIC, Advance Tax Computations etc.
Virtual bookkeeping services in Yadgir, Karnataka
8 REASONS WHY VIRTUAL ACCOUNTING SERVICES ARE CONVENIENT & FLEXIBLE
Benefits to the Company:
A prudent virtual accountant help your business to grow exceptionally and also plays key role to build goodwill for the business. An excellent virtual accountant ensures reliable virtual bookkeeping services, which further supports the management to take the right decision based on the right financials. The benefits of virtual accounting in the process of bookkeeping and your business are:
1. You would only pay for the work they have done. Hence you can avoid a fixed large monthly salary commitment to a physical accountant. The virtual accountants accept payments mostly on an hourly basis.
2. You get more time for your operational and business strategies as the bookkeeping functions are well-taken care by the virtual accountant.
3. You don't have to miss any bill payment dates as the virtual accountants are very organized in these matters and all your bills are paid on time.
4. Your data and financial information, as well as other information you share, are kept secure, and no third party has access to them.
5. All your monetary transactions are recorded, and thus not a single penny is misplaced in the process of the business.
6. The accurate financials will help the management to take the right decision about the company.
7. You get professional Bookkeeping Services for Chartered Accountants or CPAs at a reasonable cost, and other accountants are all certified and trained according to the best practices in the market.
8. If your bookkeeping function is well taken care of, you can analyze your business standing in few minutes and thus can work on the flaws to make it better.
Your accountant might not be capable in every section of bookkeeping process, but when you hire virtual accounting services, you get the services of many qualified professionals at the same time to help you with their best resources which will help your business to flourish.